Have any questions?
Leave a message and we will answer you:
Protective Treatment for nets
Cage aquaculture and set-net fishery are widely used in fishing industry, but have problems associated with marine biofouling pollution which reduces cage aquaculture efficiency, fishing net life and increases the service costs.
Biofouling or biological fouling is the accumulation of microorganisms, plants, algae, or animals on wetted surfaces. Biofouling is one of the main concerns while farming fish. It causes the mesh to get blocked, causing lower water exchange levels and a drop in oxygen levels. Hard fouling organisms have sharp edges, therefore netting materials wear out more rapidly. Because of this biofouling, nets needs to be replaced, cleaned, maintained, which increases the workload of farm personnel.
Anti-fouling is the process of removing or preventing these accumulations from forming. In industrial processes, bio-dispersants can be used to control biofouling. In less controlled environments, organisms are killed or repelled with coatings using biocides.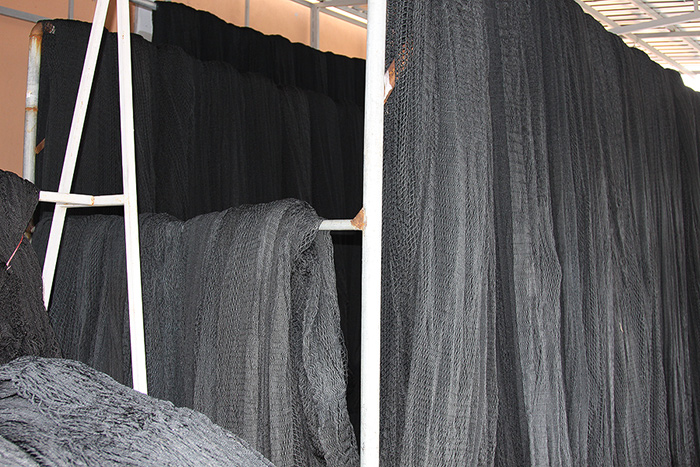 Luxsol® is able to apply water-base net treatment.
The antifouling is used by the fish farm industry for several reasons as follows:
Maximizes the time of deployment of the nets in water.
Reduces the wear and tear on the nets by reducing the number of cleanings and handlings of the nets required per production cycle.
Most importantly allows the fish nets to stay clean for extended periods of time ( more than 12 months) thus allowing the maximum flow of oxygenated water to reach the fish in the pens which provide the fish with optimum rearing conditions for growth and health.
Current antifouling strategies in aquaculture.
01
Mechanical cleaning, involving brushing, scraping or cleaning using water jets, is labour intensive and tedious. Air/sun drying when nets are hoisted out of the water and desiccation or heat kills but does not remove fouling. Cleaning of shellfish can be combined with immersing the biofouled shellfish in either hot or fresh-water, chlorine, salt solution or lime. The stress of the immersion medium kills the fouling.
02
Applying a biocidal coating on the surface is widely used in aquaculture. Small amounts of the active substance are released to deter or kill the fouling. The lifetime of such coatings, mostly based on copper oxide (Cu2O), is limited.
03
Copper has been used as a major ingredient in antifouling for hundreds of years. Copper is ideal for use as an antifouling active substance as it is a naturally-occurring material and is an essential element required for normal growth by all plants and animals at low concentrations. As such, it is a normal and essential constituent in the eco-system in soil, sediment and water.
Antifouling composed of watery base of Russian manufacture. It is water soluble, contain copper oxide in compliance with the current regulations
Luxsol® antifouling treatment is 4 times cheaper than foreign analogues.
Does fouling vary from place to place?
Absolutely – from place to place and even year to year, according to the water temperature, its salinity, the level of sunlight, the quantity of nutrients and countless other factors.