Have any questions?
Leave a message and we will answer you:
Industrial Safety Nets Installation
A safety net is a net to protect people from injury after falling from heights by limiting the distance they fall, and deflecting to dissipate the impact energy.
The term also refers to devices for arresting falling or flying objects for the safety of people beyond or below the net. Safety nets are widely used in construction.
There are two basic kinds of fall-protection systems in use in the construction industry, namely, passive and active systems. Passive systems, when installed, protect workers without the need for them to take positive action on their own behalf.
Passive net systems consist of two major types: personal nets and debris nets.
Personnel nets are designed to catch personnel who fall from a high place: a bridge, building, tower, dam, silo or other structure. Personnel nets are made of a variety of synthetic materials in the form of rope or strips to produce a webbing that has a mesh strength strong enough to withstand the force of a falling person and a mesh size small enough to minimize personal injury.
Debris nets are designed to catch small, lightweight construction debris, tools, building materials and other items that may be dropped, pushed or blown from a structure. Debris nets are designed to prevent workers, passersby or traffic from being hurt or damaged. The mesh size of debris nets depends upon the job. They are available in many sizes and strengths depending on the weight and size of the debris to be contained.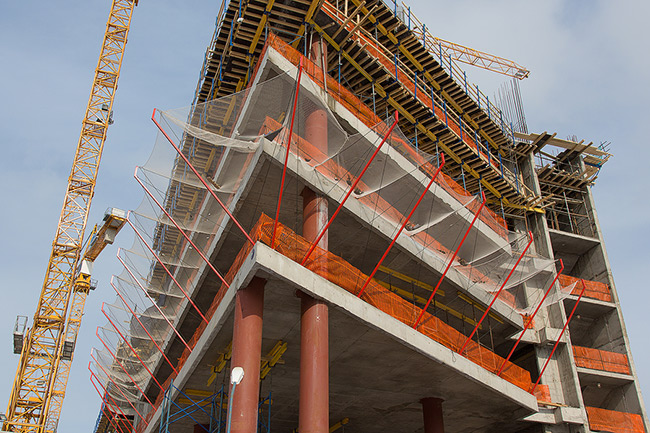 The term «safety net» is frequently used to include any kind of net, whether it is a personnel net, or a debris net.
Also, the construction industry tends to categorize nets according to their application (e.g., bridge nets, interior nets, perimeter nets, elevator shaft nets, roofing nets, polar crane nets, etc.).
Interior nets are used on the interior of structures where the fall distance is greater than 25 feet. Personnel nets and debris nets are used together on such applications where other means of fall protection, such as flooring or scaffolding, are not used or are not practical. Nets should be cleaned on a daily basis, or as needed, depending on the debris collected.
Perimeter nets are personnel or debris nets that are erected around the perimeter of a building to protect workers from overboard falls or to catch construction debris.
Other examples of applications for safety and debris nets exist in elevator and mechanical shafts to protect workers and guard against falling debris. Special structures such as cooling towers, chimneys, containment buildings, civic centers, auditoriums, gymnasiums and atriums of large buildings also may be protected with a variety of specialized and special-shaped safety and debris nets.
Spalling nets are designed to catch small- and medium-size chunks of concrete or stone that scale off or are being removed from decaying structures.
Restoration nets are designed to protect workers, the public, displays and traffic from falling objects during restoration projects.
Slag nets are designed to be hung below cutting or welding operations to catch the slag of the welder's or cutter's torch and protect those below.
Windscreen/over spray nets are designed to be used vertically to restrict the spreading of paint, sandblast material and sprayed-on insulation while still allowing for ventilation to the area.
Safety nets should be used when the workplace is more than 25 feet above the ground, water or other surface, such as adjacent structure or intermediate floor.
Where the use of ladders, scaffolds, catch platforms, temporary floors, safety lines or safety belts are impractical, nets should be used. (In areas where nets offer the best protection, it might be desirable to have the contract provide for their use, so all contractors can provide for safety on an equal basis.)
Safety nets should be used as overhead protection where public traffic or workers are required to be underneath the work area. In such cases, nets should be lined with wire or synthetic netting of such strength and mesh (which is generally 3 ⁄4- inch) that, in normal circumstances, falling tools or material would be prevented from falling on persons who may be standing below.
Luxsol® supply installation services and planning, as well as the most common hardware for netting installation.
Would you like to have a professional installation team come to your site?
Help is on the way! Luxsol's experienced installation crew can be hired to install all purpose netting, and fall protection equipment systems on location!
Let us create the perfect solution for your application!
Our experts will contact you and provide a professional consultation and custom solution for your netting needs.